A list of 10 famous tourist places near Varanasi within 100 kms provides you good idea to travel Varanasi nearby. Our valuable informative list will help you customizable tour plan for your places near Varanasi within 100 kms. Whether you want to explore these tourist places with family or just looking for a weekend getaway with your friends, our information will help you to plan you trip.
Places Near Varanasi Within 100 kms
Attracting a lot of tourists all year round, there are incredibly stunning to visit places near Varanasi within 100 kms. Embracing various tourist destinations from from waterfall, hill stations to wildlife sanctuary . These are perfect destination with your friends and family. Explore the places near Varanasi on a weekend trip or a vacation and create enjoyable moments.

With abundant tourist places near Varanasi, experience natural beauty, rich culture and history for your vacation. Fill your heart with peace and contentment while visiting pilgrimage spots like Vindhyachal and Sitamarhi.
Vindhyachal, Mirzapur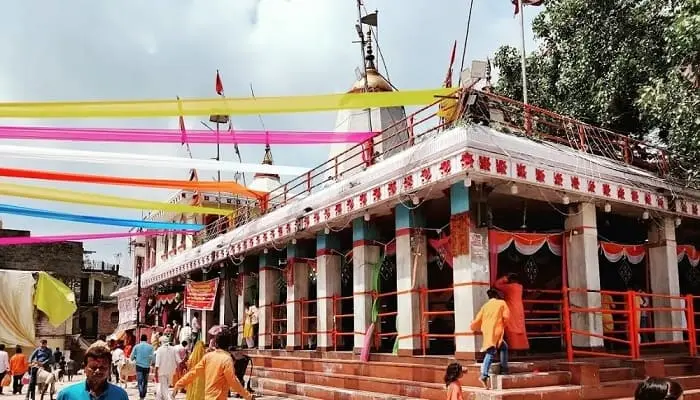 Vindhyachal is a Shakti Peeth, a centre of pilgrimage in Mirzapur district, 60 km way from Varanasi. The Vindhyavasini Devi temple located here is a major draw and is thronged by hundreds of devotees during the Navratris of Chaitra and Ashwin months to invoke the blessings of the Goddess. According to Hindu mythology, it is believed that Goddess Durga had killed Mahishasur, and thereafter had established herself in this region. This is also the reason why she is known as Vindhyavasini in Vindhyanchal regions. The Another popular name of this temple is Kajala Devi.
Lakhaniya Hills and Waterfall, Mirzapur
It is located at distance of 55 km from Varanasi. Lakhaniya Dari is a breathtaking waterfall situated near Ahraura in Mirzapur district of Uttar Pradesh. It is one of the marvelous waterfalls in Uttar Pradesh and also among the best Places to visit near Varanasi within 100 kms.
Lakhaniya Dari waterfalls cascades down from a height of about 150 m into a pool. The falls looks more beautiful and magnificent during monsoon when it is in full strength. Waters of this fall are stored in Ahraura Dam which is used for irrigation purpose by nearby village farms and fields. It is a picnic spot for families and a small adventure for trekkers.
The water of waterfall is very deep and rocks are mysterious. Every year there are cases when people get in to water and then never come back. So if you want to get into water, walk some distance towards downstream and then do whatever you want.
Entry Fess is Rs. 50/Person and Rs. 50 for Parking.
Raj Rari Waterfall, Chandauli
Rajdari waterfalls are approximately 60 kms from Varanasi and situated in a Chandauli distric. This waterfall is a rainy season waterfall and is a popular picnic spot among the locals of Varanasi and its nearby location. It's a well-maintained spot and you can play badminton or any other sport over there. The place is ideal for family, friends in search of a picnic or chilling spot. Waterfall is so quiet and peaceful that it brings you away from the hustle of the city life.

Sitamarhi (Sita Samahit Sthal), Bhadohi
Sita Samahit Sthal, the holy place of Sitamarhi is situated at 60 km from Varanasi. The location is near the national highway No. 2 and also connected with Prayagraj and Varanasi railway line with Jangiganj, the nearest railway station.
It is said that this temple is the place where Mata Sita went into the earth when she willed it while she was living with Saint Valmiki in the forest of Sitamarhi. It is a well known Hindu pilgrimage and a popular tourist place. Temple the premise is beautiful. Must visit place.
Chunar Fort, Mirzapur
Chunar Fort is also popular by the name of Chandrakanta Chunargarh and Charanadri. This place located at the distance of 35 km . This fort is at Chunar town on the banks of Ganga River. The fort was captured by Suris, Mughals, Nawabs of Awadh, and British. The fort was under the British till independence. This fort is also known as Chandrakanta Chunargarh and Charanadri which has got long history along with some legends.
The place is surrounded by by River Ganga from two sides and famous for its natural beauty and historical events. Spread across 34,000 sq. ft, the fort is a solid structure that stands on a rock, a detached part of the Vindhya Range. The southeastern part of the fort is on the rocky bank of Ganga River, which is navigable by small boats.
Dev Dari Waterfall, Chandauli
The Rajdari and Devdari waterfalls are part of Chandraprabha Wildlife Sanctuary. The sanctuary was established to conserve Asiatic lions and though their population has dwindled, there are several species of animals and birds that live here. People usually come here for a day trip and though there is no accommodation here, there are several eateries here to serve snacks and drinks. The waterfalls area is developed by the forest department where people enjoy the natural beauty. Dev Dari is about 500 meters down from Raj Dari waterfalls.
Tanda Fall, Mirzapur
Tanda Falls is a natural waterfall in the Tanda village of Mizapur, 75 km from Varanasi. It is one of the region's most beautiful and popular tourist destinations, attracting visitors from all over the country. The falls are located on the Tanda River, which is a tributary of the Ghagra River.
Tanda Falls in Mirzapur is one of the most scenic picnic spots in the region. The natural water stream and water reservoir are major tourist attractions because of their peaceful atmosphere and abundant beauty. During rainy seasons, the natural flora and fauna are at its peak. The falls offer a refreshing change from the hustle and bustle of the city.
Lord Cornwallis Tomb, Ghazipur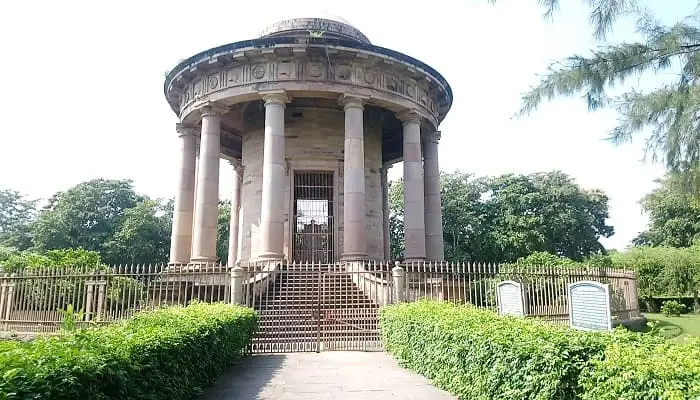 The tomb of Lord Cornwallis is located at Ghazipur district, approximately 80 kilometers east of Varanasi. It is well connected by road and railways with different parts of the country.
Lord Cornwallis is known as a good administrator and a successful commander-in-chief in the history of India during British period. He was appointed Governor General of India twice. The first tenure from September 1786 to October 1793 is remembered for his valuable contributions towards revenue reforms, judicature system and the second Mysore war. It was he who introduced the system of permanent settlement which is a landmark in the history of revenue reforms. His reform in judicature was the establishment of Nizamat sadr adalat or the Supreme Court of criminal judicature at Calcutta. It is good place to explore about a famous person of Indian history.
Enty Fees: is Rs. 25 per person ( For Indian)
Shahi Quila, Jaunpur
This Quila is situated in the center of Jaunpur city, on the bank of the Gomti. It is 70 km away from Varanasi. Shahi Quila was built by Freoze Shah in 1362 A.D. The inner gate of this fort is 26.5 ft. high and 16 ft. wide. The central gate is 36 ft. high. A top this there is a huge dome. At present only its eastern gate and, within, some arches etc. remain which narrate the tale of its ancient splendor. Muneer Khan had got its majestic front gate built with a view to security and it was decorated with blue and yellow stones. Inside, there is a bath in the Turkish style ad a Mosque too. From this fort, an enchanting view of the Gomti river and the city can be seen. The mosque, built by Ibrahim Banbank, carries the imprints of Hindu and Buddhist architectural styles.
Entry Fees: for Indian 100 INR per head and $2 for non-Indian.
Timings: The fort can be visited from 7.30 in the morning till 8.00 in the night.
Sirsi Dam, Mirzapur
Sirsi dam designed over the falls is about 98 km from Varanasi. It is designed to facilitate bind water and is located near to mezadam. This place is so stunning since the water falls from height is enough. Sirsi dam is one of the famous picnic spots near to Varanasi, which is constructed across sirsi river. The reservoir of sirsi dam formed by 14 sluice gates attracts feathered visitors the town, the spot also supplies a facility to remain at the Inspection Bungalow of irrigation division. The site is considered beautiful because the water falls from a considerable height. The natural surroundings and green fauna make a visit an enriching experience.