Searching for Important places to visit in Varanasi ? Look no further, because Trip To Varanasi places list would help you to know places that you must explore in Varanasi. Our valuable information will help you customizable tour plan as per your requirement . Whether you want to explore Varanasi with family or just looking for a weekend getaway to Varanasi with your friends, our information will help you to plan you trip.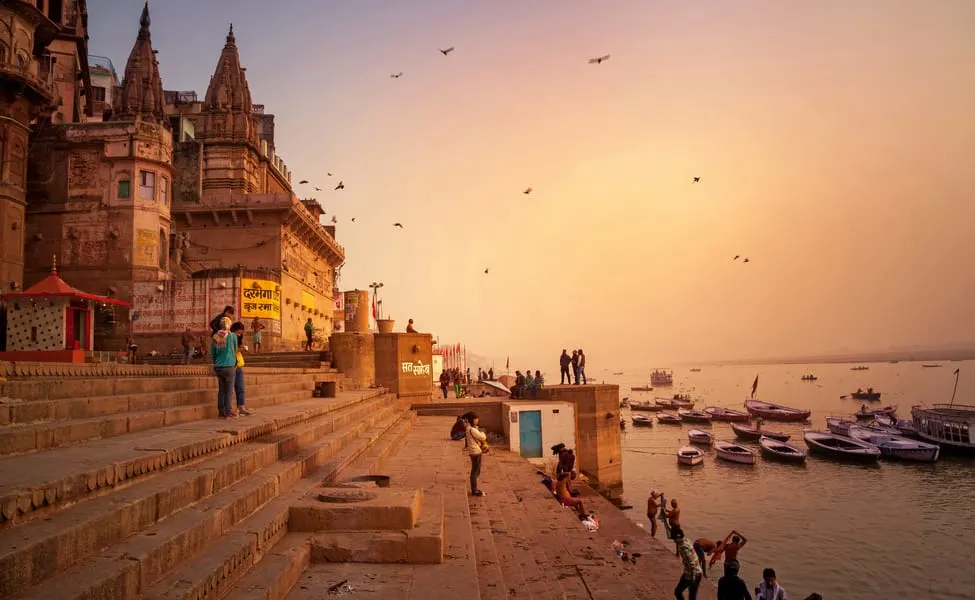 Important Places To Visit in Varanasi
Varanasi is the oldest and one of the most sacred destination in India. Varanasi is famous for the temples that are here, so it attracts a lot of tourists from the entire world who come to visit the city for the sake of its natural beauty, spirituality and serene atmosphere. The city is popularly known as Banaras as well as Kashi. In the city you will find so many location but going to cover most recommended places you should visit.
1. Shri Kashi Vishwanath Temple
Most famous temple to visit in Varanasi, and some consider it the most significant temple in the entire country. Its story is older then three thousand and five hundred years, which is an astounding amount of time. It is one of the 12 Jyotirlingas that are Shivalingas that are the physical symbols of Lord Shiva. The spires and domes of the shrine are completely covered in gold. The then ruler of Punjab Maharaja Ranjit Singh provided the tons of gold to cover its domes. Many devotees believe that a single glimpse of the Shivalinga cleanses your soul and puts life on a path of knowledge. So this place is most recommended place to visit.
2. Dashashvmedha Ghat For Evening Ganga Arti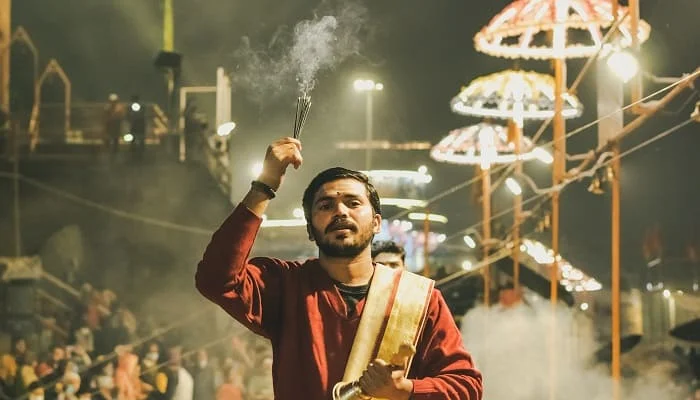 This Ganga ghat is most famous in Varanasi and believed to be the oldest one in the city, and is hence considered special. If you have seen video footages of people bathing in Ganga and praying with diyas in their hand on the banks of a river, most probably this ghat you saw. Ascetics, devotees and tourists alike all alight on the banks of the Ganga at Dashashwamedh Ghat on a daily basis. Being such an important landmark and host to the world famous Ganga aarti, it is a must-visit on any trip to Varanasi!
3. Namo Ghat
This ghat is newest and many improvements made to it, including a plaza with souvenir and local artwork shops, Boats on the river bank, a jetty for boarding and releasing boats, and instructions and lighting. Here, students would have space for strolling, exercising, and yoga, as well as access to water adventure activities. Additionally, there will be an open theater, a library, a food court featuring Banarasi cuisine, and a versatile platform that may be utilized as a helipad or to organize other events. For the benefit of the elderly and those with disabilities, a ramp has been constructed all the way to the river. Divyangjan can walk or roll his wheelchair onto this ghat from the road, putting them right next to Maa Ganga. It is unique in the way that no other ghats give equal attention to people with disabilities.
4. Kaal Bhairav temple
Kaal Bhairav Mandir is one of the oldest Shiva temples in Varanasi, India. Situated in Vishweshwarganj, this temple has great historical and cultural importance especially amongst the locals. The temple is dedicated to Bhairava, a form of Loard Shiva and wears a garland of skulls and carries a club of peacock feathers. The word "Kaal" means both "death" and "time". Kaal Bhairav also means the one who removes the fear of both death and time. It is believed that even death is afraid of Kaal Bhairav. Housed in the inner sanctum of the temple is a silver faced idol of Kal Bhairav who is seated on his vahana, a dog and is holding a trident. Only the face of the icon decorated is visible to the visitors through the doorway. Rest of the icon is covered with a piece of cloth. devotees believe that a Darshan (glimpse) of the god provide a path of knowledge and reduce ache.
5. Sarnath
Sarnath is a place located 10 kilometres from city center of Varanasi, near the confluence of the Ganges and the Varuna rivers. The deer park in Sarnath is where Gautama Buddha first taught the Dhamma, and where the Buddhist Sangha came into existence through the enlightenment of Kondanna. One of the holiest Buddhist sites in the world, Sarnath is famous as the place where Gautama Buddha delivered his first sermon. From then to the 12th century CE – nearly 1,700 years – it remained a centre of great learning, a place of pilgrimage and a vihara (monastery) for monks and scholars.
6. Ramnagar Fort
Located across the Ganga River from Tulsi Ghat. it was built out of sandstone in AD 1750 on the orders of Raja Balwant Singh, the king of Banaras at that time. He and his descendants have lived in that fort for centuries now. In 1971, the position of an official king was abolished by the government, but still Pelu Bhiru Singh, is commonly referred to as the Kashi Naresh (Maharaja of Varanasi). Even though it was built by Hindu kings, it is a testament to the diversity of the region that it was built in the Mughal architectural style. It houses Veda Vyasa Temple, the king's living quarters, and a museum dedicated to regional history.
7. Sankatmochan temple
This temple was established by famous preacher and poet saint Sri Goswami Tulsidas in the early 16th century and is situated near banks of the Assi river. This temple has the unique distinction of having Lord Hanuman facing his Lord, Rama, whom he worshipped with steadfast and selfless devotion. Tradition promises that regular visitors to the temple will gain the special favor of Lord Hanuman. Every Tuesday and Saturday thousands of people queue up in front of the temple to offer prayers to Lord Hanuman. According to Vedic Astrology, Hanuman saves human beings from the anger of the planet Shani (Saturn), and especially people who have an ill-placed Saturn in their horoscopes visit this temple for astrological remedies. This is supposed to be the most effective way for appeasing Shani Dev.
8. Assi Ghat
Assi Ghat is one of the most popular ghats in Varanasi. It is located in the southern part of the city of Varanasi at the confluence of Ganga and Assi rivers. People visit Assi Ghat for several reasons, to soak in the spiritual atmosphere, enjoy the famous evening & morning aarti and get a glimpse into the local culture. This ghat finds a mention in various Hindu scriptures like Kurma Purana, Matsya Purana, Padma Purana and Agni Purana. This ghat is visited both tourists and locals.
According to a mythological tale in Hinduism, Goddess Durga, after killing the demons Shumbha-Nishumbha, threw her sword. The place where the sword landed, resulted in the emergence of a river which was then called Assi. Another mythological tale states that Lord Rudra (a form of Lord Shiva) was furious with Asuras and eliminated 80 asuras in his rage at this very place. This is how it came to be known as Assi. However, after killing the asuras, Lord Rudra repented his actions and wished he hadn't killed them. Following this incident, he gave up all forms of violence and declared Varanasi as a place which would stand for non-violence.
9. Boat Ride From Popular Ghat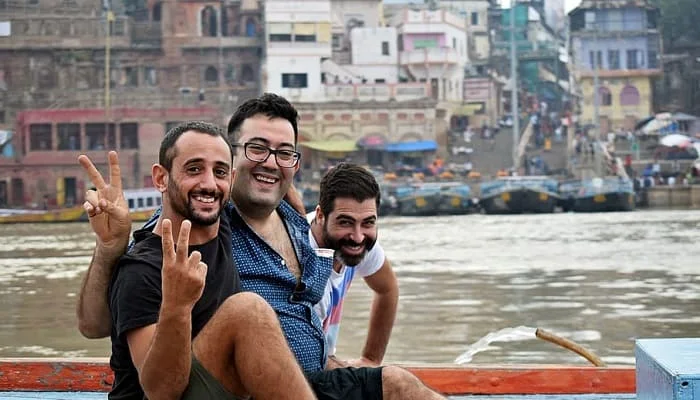 Taking ride on boat on Ganga river provide you an amazing experience. You can explore the most of the ghats and and have unique glimpses of Varanasi Ghats. You can start your boat ride from any famous ghat such as Assi, Dashashwamedh etc. Doing boat ride provide unique opportunity to explore the Varanasi's most iconic place.
10. New Kashi Vishwanath Temple, BHU
This temple is located inside Banaras Hindu University, has tourists flocking to its doors on a daily basis. The Birla family that has been a hugely successful group of entrepreneurs in India commissioned its construction, leading locals to call it Birla Temple. A great thing about the temple is that it isn't just one building, but actually seven separate temples that together make one big religious complex. The legendary old Vishwanath temple is a direct inspiration for the design of this temple. Every wall of it is covered in the utterings of Lord Krishna, when he recited the Bhagwad Gita. One of the most iconic temples in Varanasi, it is a must visit on a trip!
11. Durga Temple, Durgakund
This temple is a symbol of feminine divinity and dedicated to Goddess Durga. Another badge of feminism for this temple is that it was actually commissioned by a woman. The Maharani of Bengal was responsible for its making and it was according to her wishes that it was constructed in the Nagara style of architecture. But, the most interesting fact about this temple is perhaps the fact that it is visited by several monkeys every day. In fact, there are so many monkeys here that it is often called 'Monkey Temple'. So, beware of those mischievous apes when visiting here!
12. Bharat Mata Temple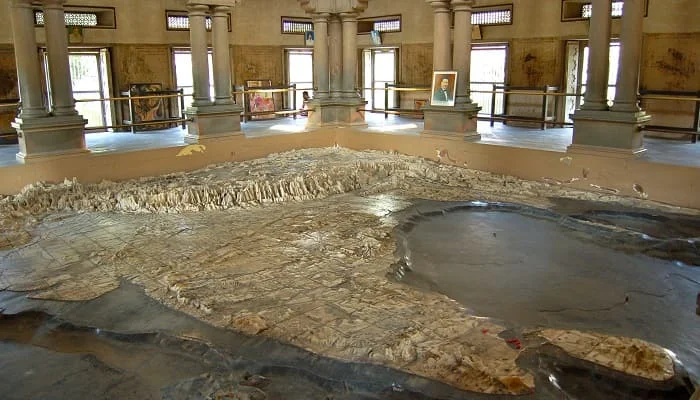 Bharat Mata Mandir is located on the Mahatma Gandhi Kashi Vidyapith campus in Varanasi. This temple has a huge map of undivided India carved in marble. This temple is dedicated to Bharat Mata and claims to be the only one of its kind in the world. The Bharat Mata Mandir was created by philanthropist and freedom fighter Shiv Prasad Gupta. The temple houses a relief map of India also carved out of marble. The map depicts the mountains, plains and oceans up to scale. It has no "murti" or image of God so that the temple is inclusive to all religions in the country and secular.
Also Read: Famous Things To Buy In Varanasi